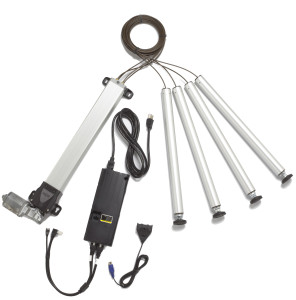 The Motor Driven System is supplied as a retrofit kit. The system will bring power and height to your existing space.
Motor Driven Systems

(120V)

Next to the Part Number are zip files containing 3D CAD in .STP & .X_T

Motor Driven PDF Drawings:
Pump | Controller | Switch | Cylinder | Glide
For the charted drawings refer to the Pump and Cylinder part numbers below.

| Lift Capacity | Stroke | Part Number | Pump | Cylinder (x4) | Purchase |
| --- | --- | --- | --- | --- | --- |
| 340 / 750 (kg/lbs.) | 150 / 5.9?(mm/in.) | MLS-00001E .STP .X_T | Q4809 | CB415 | Buy Now! |
| 340 / 750 (kg/lbs.) | 200 / 7.9?(mm/in.) | MLS-00002E?.STP .X_T | Q4812 | CB420 | Buy Now! |
| 340 / 750 (kg/lbs.) | 300 / 11.8?(mm/in.) | MLS-00003E?.STP .X_T | Q4818 | CB431 | Buy Now! |
| 340 / 750 (kg/lbs.) | 400 / 15.7?(mm/in.) | MLS-00004E?.STP .X_T | Q4824 | CB440 | Buy Now! |
| Lift Capacity | Stroke | Part Number | Pump | Cylinder (x4) | Purchase |
| --- | --- | --- | --- | --- | --- |
| 454 / 1000 (kg/lbs.) | 150 / 5.9 (mm/in.) | MLS-00005E?.STP .X_T | Q4612 | CB415 | Buy Now! |
| 454 / 1000 (kg/lbs.) | 200 / 7.9 (mm/in.) | MLS-00006E?.STP .X_T | Q4615 | CB420 | Buy Now! |
| 454 / 1000 (kg/lbs.) | 300 / 11.8 (mm/in.) | MLS-00007E?.STP .X_T | Q4623 | CB431 | Buy Now! |
| 454 / 1000 (kg/lbs.) | 400 / 15.7 (mm/in.) | MLS-00008E .STP .X_T | Q4631 | CB440 | Buy Now! |
| Lift Capacity | Stroke | Part Number | Pump | Cylinder (x4) | Purchase |
| --- | --- | --- | --- | --- | --- |
| 590 / 1300 (kg/lbs.) | 150 / 5.9 (mm/in.) | MLS-00080E?.STP .X_T | Q4615 | CB615 | Buy Now! |
| 590 / 1300 (kg/lbs.) | 230 / 9.1 (mm/in.) | MLS-00081E?.STP .X_T | Q4623 | CB631 | Buy Now! |
| 590 / 1300 (kg/lbs.) | 300 / 11.8 (mm/in.) | MLS-00082E?.STP .X_T | Q4631 | CB631 | Buy Now! |
| 590 / 1300 (kg/lbs.) | 393 / 15.5 (mm/in.) | MLS-00083E?.STP?.X_T | Q4639 | CB640 | Buy Now! |
^Back to home